Islam and Christianity: Nonie Darwish Draws the Starkest of Contrasts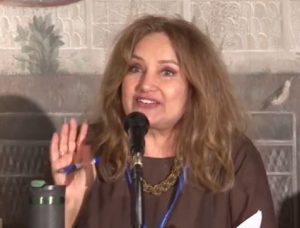 Nonie Darwish is an Egyptian-American author, speaker, activist and an eloquent voice on a wide range of issues related to Islam.  A senior Fellow at the Center For Security Policy, she is also the founder and president of Arabs For Israel.  The author of three books –  Now They Call Me Infidel: Why I Renounced Jihad for America, Israel and the War on Terror; Cruel and Usual Punishment: The Terrifying Global Implications of Islamic Law; and The Devil We Don't Know: The Dark Side of Revolutions in the Middle East – she has a fourth book coming out next year.
Nonie drew stark comparisons between Islam and Christianity at our August conference and contrasts are striking.
Can Islam and Western Civilization coexist?  Not when in every way the underlying values are completely and utterly opposite each other.