AFA President loses teaching job for defending Western Civilization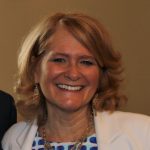 Sunday May 5th was the AFA conference on the Left's Long March.
Monday May 6th, AFA President Dr. Karen Siegemund was a casualty of it.
She'd been a teacher for almost 20 years, the past four at a school in Los Angeles – in fact, the very school she herself had attended as a child. And May 6th, she was informed that her contract wouldn't be renewed. Among the reasons cited was that she'd praised Western Civilization in a speech at an AFA event. This is the offending quote:
"Each of us here, believes in the unparalleled force for good that is Western Civilization, that is OUR heritage, whether we were born here or not."
This was deemed hostile, apparently.
Imagine a world where a complaint could be made about such a statement.
Imagine a world where this is cited as problematic.
Imagine a world where this isn't PRAISED!
Imagine a world where this is grounds for termination.
This kind of "activism," she was told, is "not appreciated."
We've lost our minds.
Is this not the most perfect, and perfectly ironic, data point proving the rightness of the conference, as well as how truly, really and truly, Western Civilization is indeed under attack?
And while Dr. Siegemund practices this kind of heretical "activism" outside the classroom, other teachers wear "#RESIST" and "I'm WITH HER" t-shirts – IN the classroom. Other teachers wail about the election of Donald Trump as "another 9-11" and "the worst thing to happen to the country" – IN the classroom.
It's not activism that's the problem, clearly, but which side you're on.
And the Left, as we revealed overwhelmingly at our Long March conference, can't tolerate any other voice, no matter how small.
They can't tolerate ANY light in their darkness, even as small a flame as one solitary non-conforming teacher like Dr. Siegemumd.
You can read more about it:
Dr. Siegemund's emails to AFA here and here.
The Purge Hits Home by Dave Sussman at Ricochet
Teacher Loses Job over Political Beliefs by AFA Fellow Ann-Marie Murrell,
Dr. Siegemund's interview with Breitbart's Joel Pollack
Dave Sussman puts it in the context of the Long March
Watch her on the Huckabee Show here:
She is taking legal action – stay tuned for more developments in that arena.
Meanwhile, we hope you join AFA to help us keep fighting the fight to defend Western Civilization. We're right on the mark, as evidenced by the shutting out of Karen Siegemund from her teaching job.