Welcome to
American Freedom Alliance
Advancing the values and
ideals of Western Civilization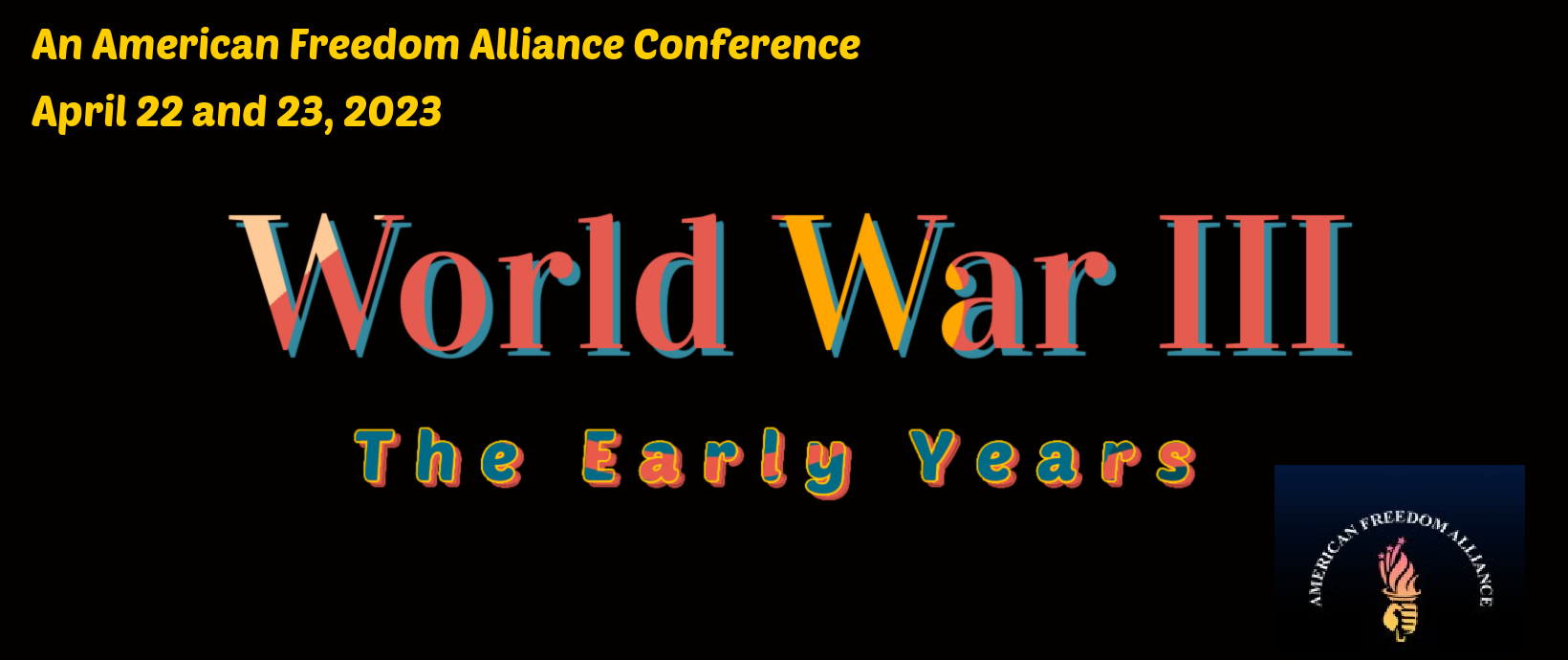 APRIL 22 and 23
TORRANCE MARRIOTT REDONDO BEACH
REGISTER BEFORE MARCH 8th for a 25% DISCOUNT
USING THE COUPON CODE "EARLY"
JUST CONFIRMED!
ED DOWD

his blockbuster video from our Puppetmaster conference has 127k views on Rumble,
and his bestseller book "Cause Unknown" is a must-read
OTHER SPEAKERS INCLUDE
Gordon Chang * Stephen Coughlin * Frank Gaffney * Brian Kennedy
Trevor Loudon * Col (Ret) John Mills * Dr. Michael Rectenwald * General (Ret) Robert Spalding
Dr. Bradley Thayer * Patrick Wood
WITH MANY MORE TO COME!

March 12th
Las Vegas
Join us for a fascinating and important conversation
Steve Bannon's Keynote Speech
From last year, our October 2022 Conference

A Two-day Conference
on THE MOST CRUCIAL TOPIC OF OUR TIMES
** FROM OUR JUNE CONFERENCE **
PROPAGANDA: Is Anything You Know Real?
Was a BLOCKBUSTER!
For Photos of the event, click here
For videos, right now they are only up on our RUMBLE CHANNEL so please subscribe!
For more about the event, click here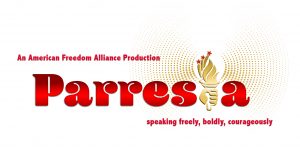 That one courageous voice speaking out against the dominant narrative
The latest from the American Freedom Alliance!
AFA President Dr. Karen Siegemund invites those with that courage to join her in conversations relevant to truth, freedom, and the events of the day.
Find us on YouTube and Rumble, and more platforms coming soon!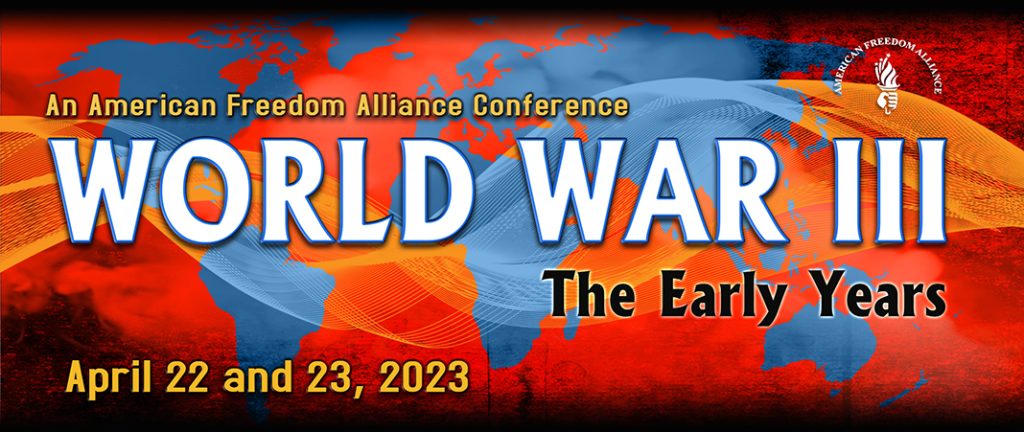 World War III: The Early Years
AFA's UPCOMING CONFERENCE on April 22 and 23 With a CONFERENCE DINNER April 22 CLICK HERE TO REGISTER That we are under attack by global threats goes without saying. We've been in a Cold War on several fronts for some time now, and the increasing hostilities and take-overs around the world indicate that these threats […]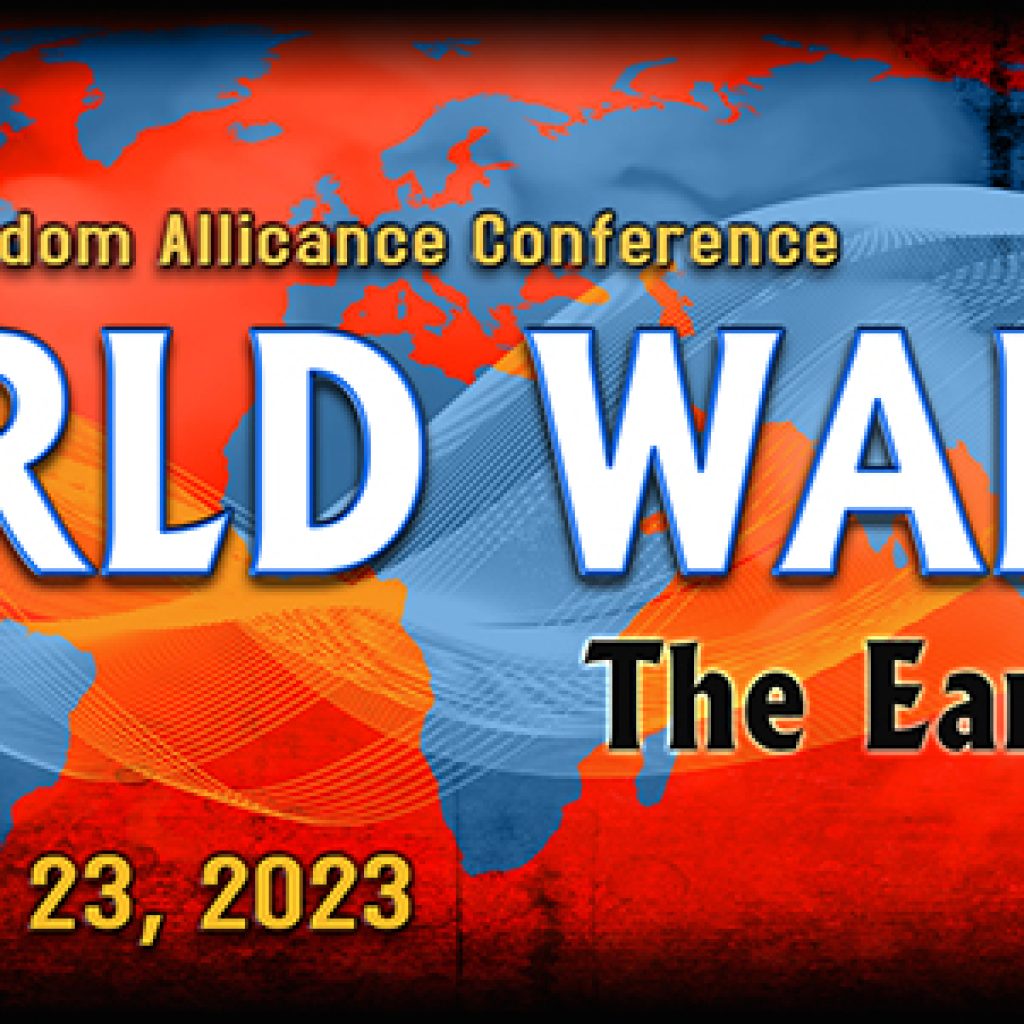 World War III: The Early Years – SPEAKERS
Our Roster of Speakers includes, so far, these outstanding experts: Gordon Chang – An author, attorney and world-renowned expert on China and North Korea, Gordon Chang brings a unique and important perspective to the topic of World War III. He is the author most recently of The Great U.S.-China Tech War and Losing South Korea, booklets released by […]

AFA launches our
LIBERTY INDEX
Initiative
The violence, destruction, chaos and general mayhem in our cities and streets are born of hatred and rage that have been deliberately cultivated and fomented in our young people, primarily through our schools. We're seeing the culmination of the decades of efforts of Marxist and other Leftist groups who have been manipulating our history, teaching shame rather than pride in this most exceptional nation, teaching victimhood rather than self-determination, teaching destruction rather than gratitude for those who have created what we are the beneficiaries of.
Recognizing the power that our education system has, and how that power has been exploited for a hateful agenda, AFA is launching an initiative to assess schools according to a Liberty Index, creating a resource for parents, the community and educators to find schools whose academic and philosophical values match theirs, and of course, to recognize excellence.
You can read more about it here and here.
We will be reaching out to our AFA community for your school recommendations, and hope that you will take part in this effort to stop the hijacking of our schools.
This is the first of many ventures taken by AFA to contend with the destruction of education and we're very excited by it.
The Left's Long March must be stopped, and we're here to do our part.
Join us.

_______________________________________________
AFA has been hosting weekly Zoom "Inside Look" events with experts on a wide array of topics of interest to our community.
For more information, be sure to subscribe to our mailing list.
For videos of past events, click here.

AFA launches our
EVERY BUSINESS IS ESSENTIAL
Initiative.
Many aspects of the response to the Wuhan virus have wrought destruction to the nation in ways far beyond the damage of the virus itself. Our losses of freedoms, the pernicious and too-deep fear that has been fostered, the adoption of the notion that all risks can be avoided and that it's the government's job to eliminate them, the economic devastation, all are contributing, not to a "new normal" but to a shift in the American ethos that is striking fear in many of us.
At AFA, we're supporting those fighting against the various seizures of freedoms and are taking measures, each in our own ways, to dispel the fears and anxieties that are the consequence of the media's relentless drumbeat of apocalypse.
In addition to all this, AFA is launching our "EVERY BUSINESS IS ESSENTIAL" initiative in response to the destruction of economic freedoms wrought by zealous bureaucrats. Read our press release here, the rationale here, and sign YOUR support for economic freedom here.
***COMING AS SOON AS LOS ANGELES WILL PERMIT***
(Aiming for the end of July)

A two-day conference on the threat that China poses to the world
Luxe Sunset Boulevard Hotel
Already confirmed speakers:
Steve Bannon * Gordon Chang * Bill Gertz * Frank Gaffney * Trevor Loudon * Curtis Ellis
and many more.
Some of the topics to be addressed:
History and Current Status of US-China Relations ~ Intellectual Property ~ Finance/Trade ~ Manufacturing ~ Defense ~ US Investment ~ Aerospace ~ Human Rights ~ Propaganda/Influencers ~ China in Europe/Africa ~ Taiwan/Hong Hong ~ China and the Global Left ~ Chinese Dissident Groups vs. the CCP
Join our mailing list for updates as we navigate our way through the shutdown and await "permission" from the city of Los Angeles for the Luxe to re-open for full-capacity events.
---
---
*** CONFERENCE POSTPONED until FEBRUARY***

FEBRUARY 2021
Luxe Sunset Boulevard Hotel
And with a special tribute to American Hero Phil Haney
---
---
Join AFA and be part of the defense of freedom
About AFA:
The American Freedom Alliance is a non-partisan, non-profit organization which promotes, defends and upholds Western values and ideals. AFA hosts a wide range of events to educate, build alliances and advocate for the defense of Western Civilization.
Visit our Video Channels for exceptional videos.
Click on the right to be a part of our fight for freedom.